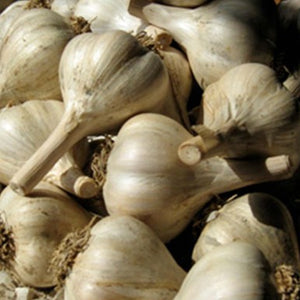 We begin shipping Garlic mid September-October 2023
(There is a pricing discount for ordering larger volumes. Discounts are automatically applied)

Seed Garlic:
1/2 pound, pay $14
1 pound, pay $20
5 pounds, pay $18 per pound
20 pounds, pay $15 per pounds
Our standard for seed garlic bulbs are a minimum 2" diameter. Our garlic has tested negative for garlic bloat nematodes, white rot and Botrytis since 2009. Testing done annually.
Culinary Garlic:
SALE
Culinary Garlic standard size is less than 2" diameter.
Details:
Hardneck / porcelain Stripe
3-6 large cloves per bulb, easy to peel cloves
Long Storage
Grows well in northern states
Flavor, Robust with sharp bite when raw. Cooking will tone down the heat while holding that big garlic taste.
Approx. 6-8 bulbs per pound, 25-30 cloves per pound.  Plants 15-20 linear feet of row at 6 inch spacing. 
When will it ship?
Fall Garlic will ship between September 15th and October 31st.
Why source from us.
Green Garden Farm is located in the heart of Maine. We specialize in growing organic German Extra Hardy garlic, Georgian Fire, Georgian Crystal, and take great pride and joy in the production of some of the best quality garlic available. Garlic direct from our farm to your farm or table.  We also grow and offer Peony Plants that are large and often ready to bloom the following spring. Along with colchicum bulbs that will bloom upon arrival to farmers and the home gardener